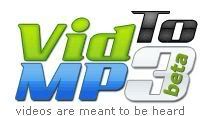 Ever seen a great video on youtube and wish you could have it on your MP3 player to listen to that song forever or until you get sick of it?
Well I found a Video to MP3 site that does just that, it is called
VidtoMP3.com
You take the videos link from youtube (or myspace, even though I never go there) and put it on
vidtomp3.com
and after a few seconds, you download the MP3.
I just tried it with this really cool interpretation of Billy Jean sung on American Idol by David Cook.
and I got:
Impressive.