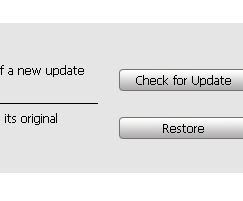 I signed up to the iTunes store after it accepted my Kuwait credit card. Only apps are available for Kuwait currently. I managed to download 2 applications;
Twitterific
that allows you to
tweet
from your iPhone or iPod Touch, and Apple Remote which I felt was cool but did not really know how good it was.
I synced my iPod touch and then fingered around my iPod and could not find those apps installed there. I read up and found out that I needed to upgrade my iPod touch
to version 2.0 of the firmware
. I hit the "check for update" a million times and every time it told me the iTunes store was not available. It appears that after Apple introduced the iPhone 3G yesterday, iTunes could not handle all this traffic hitting its web servers, so I just gave up.
This morning I woke up and before anything, I turned on my comp and hit the upgrade button again. Success! This time I downloaded the new 2.0 firmware via iTunes and installed it. The whole process took just a little short of 1 hour on a 1 Mbps connection.
Twitterific was installed, and Apple Remote. I tweeted in twitter, and started Apple remote.
The Apple Remote app
is mindblowingly amazing. What it does is it lists out all your iTunes library on your iPod Touch (and iPhone) and you select the song that you want. That song is played on your PC's speakers and you get to hear it. What is amazing is that as long as both your PC and iPod are both connected you can control the music played anywhere you are.
I got a nice set of speakers for my PC, but with this new capability I am going to buy a monster pair of speakers with trunk sized subwoofers so I can listen to my music anywhere in the house.