I just got a new Nokia 5800 Xpressmusic mobile with 8GB memory. That memory needed to be filled. The Nokia 5800 is touchscreen meaning that if you where to play a movie it would fill the whole screen. I asked on twitter what would be the best tool to rip DVDs from and I got an an answer from the ever helpful
blasha
and
3baid
. They both recommended
handbrake
, which as described on the site as an
open-source, GPL-licensed, multiplatform, multithreaded video transcoder, available for MacOS X, Linux and Windows.
meaning you can use it to RIP DVDs and convert them to files you can store on your iPod, iPhone or Nokia mobile or any other gadget or computer that can play those files.
Of course, only rip your legal family DVDs, and none of the copyrighted stuff.
I tried to rip a few DVDs and load them on my Nokia mobile but it would not play it, I looked around the web on the best settings for Nokia and I did not find anything useful, I did a few ripping experiments and succeeded.
So here are the best setting for your Nokia Mobile.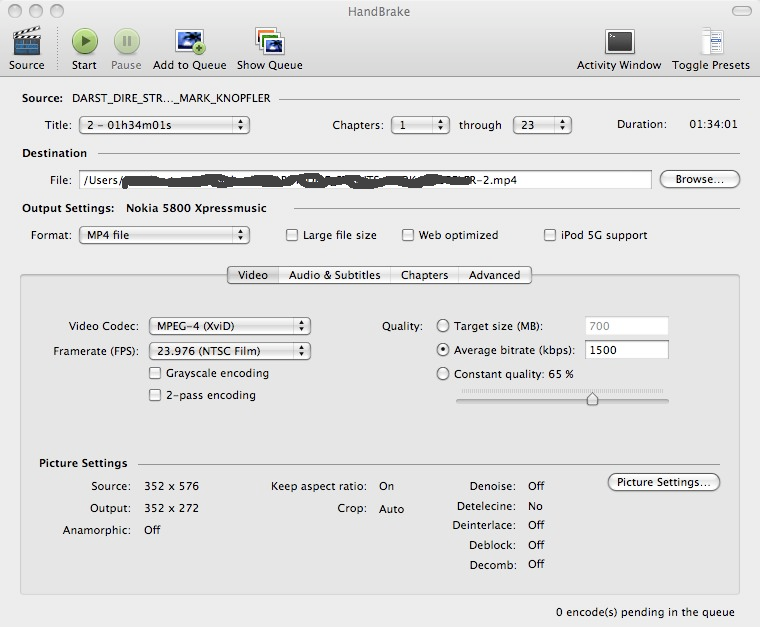 I would also recommend playing around with the picture settings to have the output less than or equal to the resolution of your mobile, to save on space of the final output file. After the movie is ripped, you can transfer it normally to your Nokia mobile via USB or bluetooth.