Fadibou
's post about a crash landing at Dubai airport, made me do a quick search and I found out that:
Dubai airport, a major international hub, will be closed for at least eight hours on Monday after a Biman Bangladesh Airlines aircraft was involved in an accident while trying to take off, officials said.
more here from
scotsman.com
and from
Gulfnews
and
chron.com
UPDATE
DCA Statement on Biman BG 006 Accident
DCA Statement on Biman BG 006 Accident - March 12, 2007
Biman, Bangladesh Airlines Flight BG 006 from Dubai to Dhaka had an accident during departure and failed to take off around 0630am today. All 236 passengers, including crew, are safe, and were immediately evacuated from the aircraft. Fourteen passengers sustained minor injuries.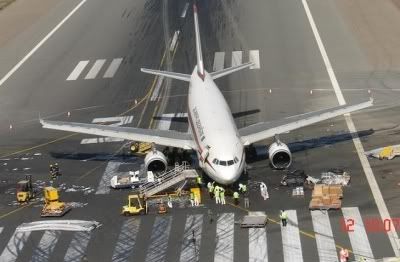 Dubai Department of Civil Aviation (DCA) has announced an 8-hour closure for Dubai International Airport starting 0630 hrs, March 12, 2007. The General Civil Aviation Authority (GCAA) and DCA are investigating the cause of the accident.