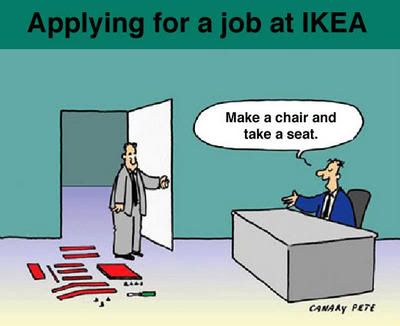 I went to IKEA yesterday. It was so crowded, I did not even attempt to park in their parking lot but stopped on the side of the street opposite IKEA.
I am not a furniture snob, and IKEA's stuff is very practical and useful, so I like shopping there. Where else can you get 3 pockets for your remotes that you can hang on the side of your couch. It makes you feel like a cowboy, drawing out your remote and zapping your TV , DVD or anything else you got remoted.
Putting furniture together is also half the fun, unless you lose a critical screw or bolt, then you need to rush back to IKEA to get that missing element that will complete your masterpiece.
Here is a little something about IKEA and how it started:
IKEA is not a Swedish word. It's an acronym, a pronounceable ("eye-KEE-ah") word made up of the initial letters of a name or phrase. (An unpronounceable product of the same abbreviation process, such as "VCR," is technically known as an "initialism.")

So IKEA isn't really a meaningful word, but the story of the company is interesting in itself, sort of like "The Little Match Girl," but with a happy ending. In Hans Christian Andersen's famous fable, a poor urchin perishes after being sent out on the frozen city streets to sell matches. But in the IKEA story, an enterprising farm boy builds match-selling into a global empire.

Born in 1926 in the Swedish village of Agunnaryd, young Ingvar Kamprad got his start in business by riding his bicycle from farm to farm selling wooden matches to his neighbors. Once everyone had a supply of matches, Ingvar wisely decided to diversify his offerings, and soon was pedaling around the countryside delivering Christmas tree ornaments, ball point pens and, though it must have been a bit awkward, fresh fish. By age 17, Ingvar had formed his own company and named it IKEA, an acronym made up of his own initials (IK), the name of his family's farm (Elmtaryd), and the village of his birth, Agunnaryd.

Delivering his product line (which now included picture frames, watches and jewelry) by bicycle was no longer practical, so Ingvar transformed IKEA into a mail-order operation, and by 1948 was also selling furniture produced by local artisans. So successful was his low-priced but sturdy line of furniture that by 1951 Ingvar had dropped all his other products and decided to concentrate on inexpensive but stylish home furnishings. IKEA today operates stores in more than 30 countries around the world, selling about 12,000 different products (but not, oddly enough, bicycles).