Women in Kuwait where granted equal political rights in May 2005 and will vote in legistaltive polls in 2007. 60% of the 28,000 eligible voters are are women and these will play a significant role in the outcome of any future elections in Kuwait.
Two women are among eight candidates contesting a by-election for a municipal council seat for the district of Salmiya, south-east of the capital Kuwait City.
Kuwaiti women for the first time in a by-election for a Municipal Council seat, less than a year after winning full political rights. Two women were among eight candidates running for the seat in the district of Salmiya. Both the women, however, lost in the elections although one of them — Jenan Bushehri — performed admirably well to finish second overall to the eventual winner Yousef Al-Suwaileh Al-Azmi, who got 5,414 votes. Bushehri got 1,808 votes to place second while Emad Dashti finished third. Khalda Khudur, the other woman in the race, finished a distant last with only 80 votes.
Even though it was considered a small vistory for women in Kuwait and the region, it was still a loss because no Kuwaiti Women is holding an elected seat anywhere in the parliament. In preparation for the upcoming parliament election, the challenge is to win the hearst and minds of men and women voters in Kuwait. The answer is to emulate successful women candidates like Margaret Thatcher and become a better man than the boys competing against her, or take advantage of their feminine side and be like Yulia Tymoshenko who became Ukraine's first female prime minister. She remained Prime Minister until 8 September 2005, when her government was dismissed by President Yushchenko. Later, he criticized her work as head of government, suggesting it had led to an economic slowdown.
After her dismissal she started to tour the country in her bid to win the 2006 Ukrainian parliamentary election, she made clear she wanted the post of Prime Minister back.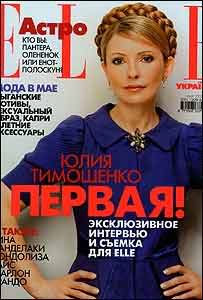 Yulia is on the cover of the Ukrainian Elle, would our Kuwaiti Candidates do the same?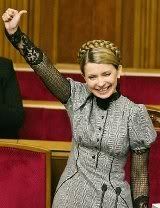 Thumbs up for a parliament victory.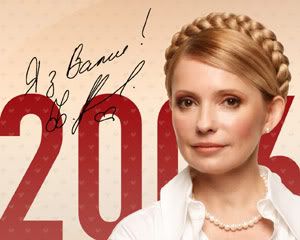 Campaign Poster for Yulia, I like the heart signature.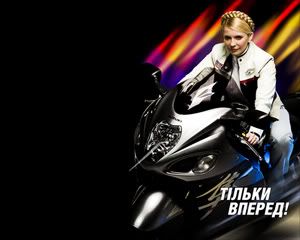 Yulia riding a power bike towards a brighter future.


Heck, I am convinced, if Yulia is in my area, I will vote for her.